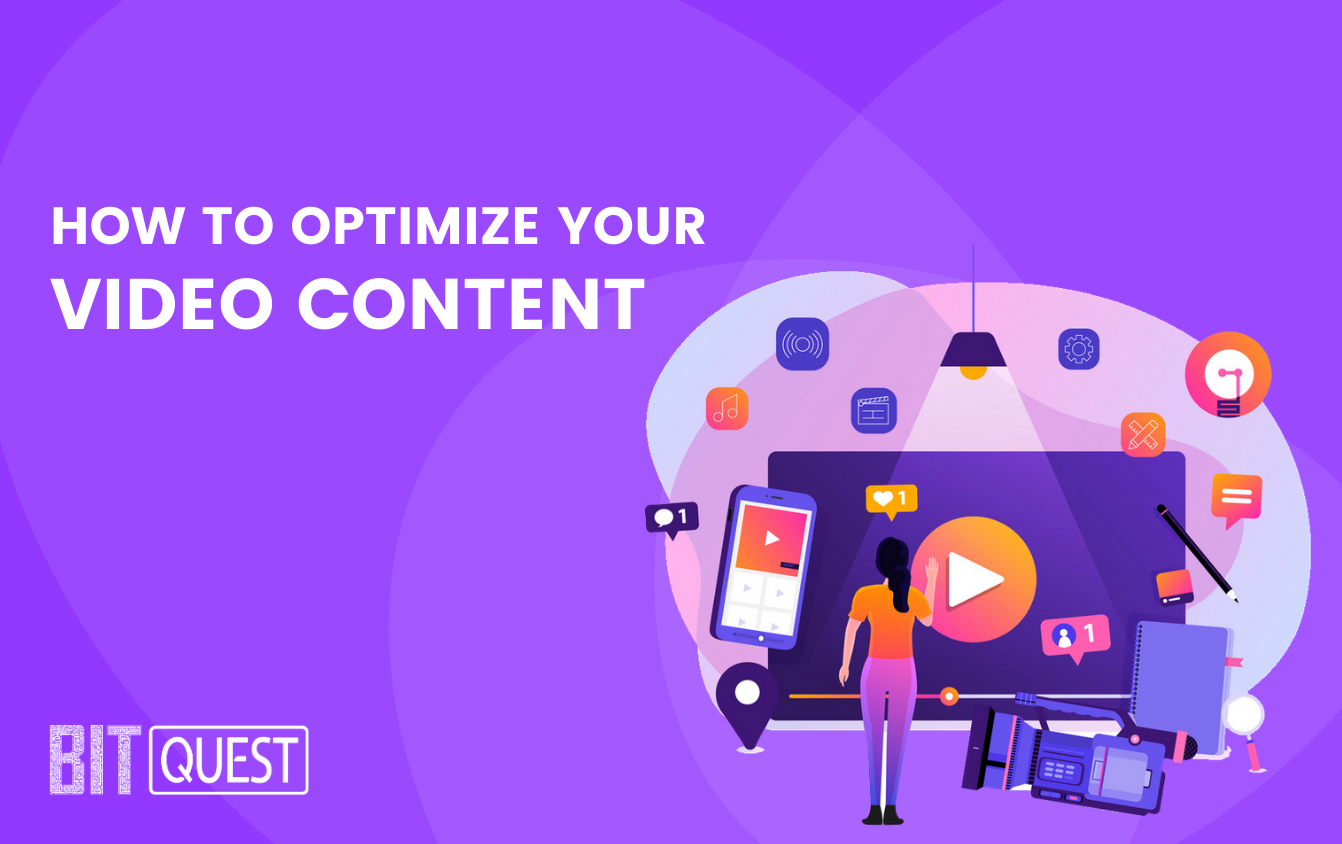 As we all know, the digital world is continuously growing, and it's obvious to fall behind when you're not up to date. One of the significant aspects responsible for implementing innovative technology and aligning content with users is video content in digital marketing campaigns. Video content isn't a passing trend. Businesses wholeheartedly support it, especially after understanding its impact on the results of search engine optimization (SEO). This is also one of the preferred approaches for users when looking for entertainment, goods, services, or info about a specific thing. The significance of optimizing and planning your video content accordingly can significantly improve your SEO on a wide scale by providing Google with the value of your content. Here are eight essential tips that you need to know about optimizing your video content. Read on-
First, let's understand what video SEO is?
The idea of video SEO is to implement several techniques that allow you to rank better for videos and pages containing videos. All the websites can also rate the video tab on search browsers, but not all can rank on the universal search with a video. The website's authority plays a vital role in ranking higher with universal search by analyzing if the content is video-focused and how it ranks for video-related terms.
Are you wondering what the impact of video optimization is, and how does Google classify them?
With social media and the continuous development of smartphones and digital cameras, people consider they can create and publish video content at a much quicker rate. Besides this, videos improve user experience by communicating everything they like by combining movement, visuals, and sounds. Presently we can't browse the internet without seeing a video because we're all walking around with smartphones in our pockets that can capture excellently high-quality videos anywhere. With the explosion of video, getting classified in the universal search results has become much harder. Providing the content to users, Google calculates what might be most relevant for the users' search query. Optimizing the video with the correct search query and the right description by providing an appealing summary of what can be expected in the video helps Google prioritize the rankings.
Eight essential tips to optimize your video content for search
1. Do an extensive keyword research
Keywords are likely to direct viewers to your videos, so it's a must to use correct ones. List potential keywords relevant to your video, then use the YouTube autocomplete to find the most used keywords people use for video search. You would then show the long-tail keyword suggestions that you can use. Conduct keyword research just like in text content – keywords are also crucial for SEO video strategy.
2. Create a channel on YouTube
According to Search metrics, 82% of the YouTube videos appeared on Google's universal search. Make content for users, not for search engines. Often upload new, attractive, and insightful content. Quality is the most significant ranking signal for YouTube and Google's algorithm.
3. Including video's on webpages
Google values webpages containing at least one video. So just be sure to add videos on appropriate pages or posts. The content on the pages should be reliable. If a page interacts with various orchids' styles, do not add a video about general gardening tips. Each of the content needs to refer specifically to the host page's content.
4. Use high resolution and appropriate thumbnails
The thumbnail is a preview of what's in your video and is often vital to attract users' clicks. It operates as a business card and can draw viewers. A video thumbnail can significantly affect a person's choice to view your content. Similar to the cover of a book, viewers judge a video by its thumbnail. Custom thumbnails are beautifully made, professionally edited images created to tease you about what's inside the video.
5. Create engaging titles and descriptions
Video titles and descriptions should be compelling to drive clicks and consistency with the content. They need to be objective, and the content topic requires to be summarised for Google's algorithms. Keep in mind when producing content that you compete with countless content online. Stand out by understanding how to implement and optimize video descriptions. YouTube shows only the first 157 characters out of 5,000, so make sure it includes the target keywords and call-to-action statements.
6. Generate backlinks
Creating backlinks is very important for your video content SEO to reach more people and improve rankings. Backlinks or inbound links are a vote of confidence from one website to the next. You can generate backlinks by including a link to your blog or website in the video description. You may also approach other high-level sites to advertise your content by connecting it back to your video or host page.
7. Create evergreen content
Creating enticing video content will keep bringing in engagement over the years. Create content for viewers, not for search engines. Often upload new, enticing, and insightful content. Quality is the most significant ranking signal for YouTube and Google's algorithm. What's the quality content? Google sets out the basic guidelines and a list of specific instructions on what you should not do. Still, nothing is categorically defined as absolute rules on creating quality content, so it all depends on how you address it.
8. Encourage users to comment, share, and like the content
This is also a useful tip for increasing engagement in the video. It helps in ranking and creating more impressions on the video. A strong base of subscribers will boost your SEO video. Encourage audiences to subscribe to your channel and receive updates on recent uploads by adding a call-to-action at the end of each video. You can also include this in the overview and add a link to the website.
Video content is becoming increasingly popular as it keeps us up to date with what's new and trending. Knowing the user's intent gets you one step ahead of your competitors in achieving your goals.
The crucial takeaway is always creating quality content that drives more traffic and views to your websites and channels. Keep in mind that while going viral is great for your visibility, it is a sustainable effort that matters to your content marketing strategy. Aspire to raise the conversion instead of 15 minutes of fame. The appropriate SEO techniques are going to lead the way. Jumpstart your digital marketing strategy with video optimization.
Get in touch with us to find out how you can get the most out of your video content strategies.