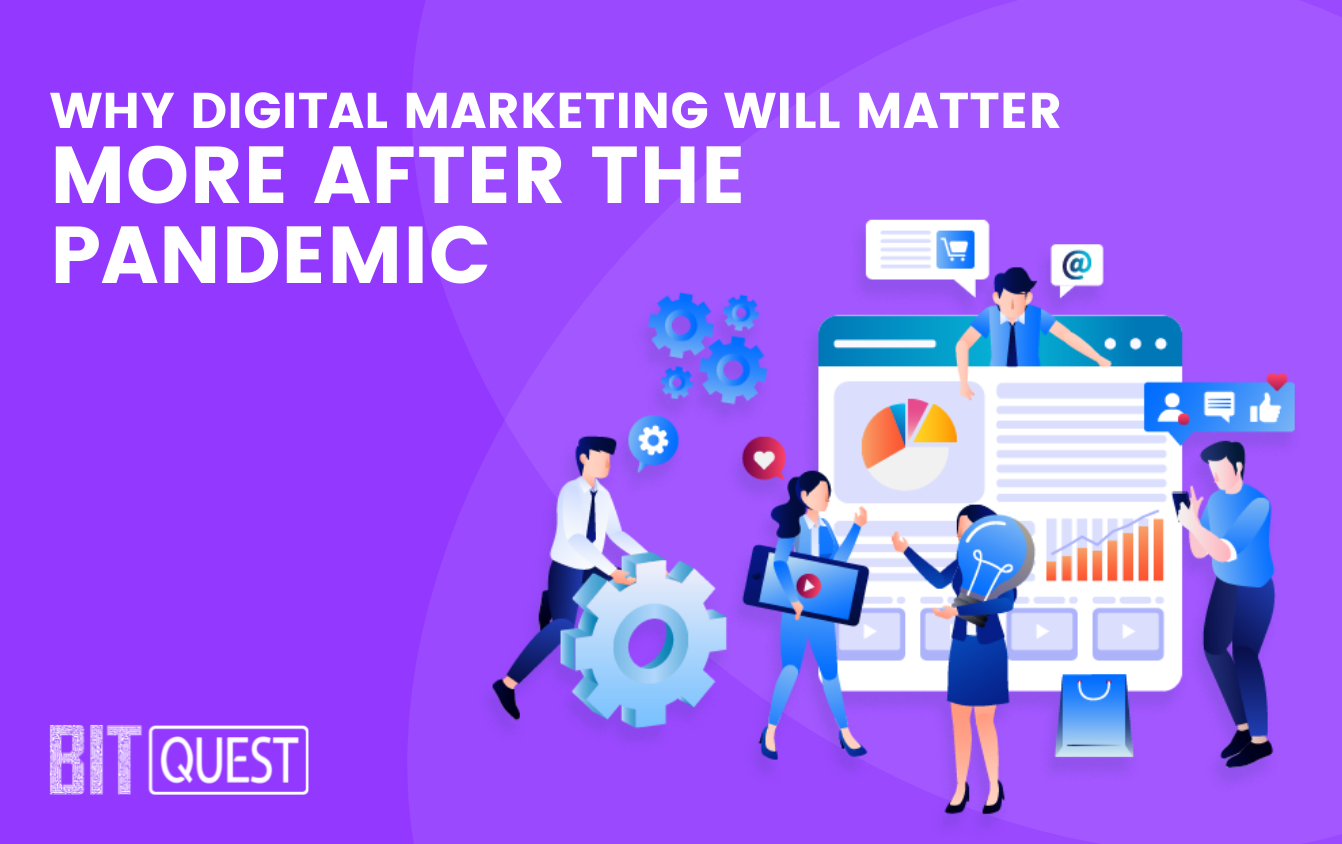 The world of marketing has been digitizing slowly in recent years, with many sectors finding that it is invaluable in reaching potential customers, in ways that traditional methods do not. Everything from consumer goods shopping to banking has become increasingly available through remote means. The importance of digital marketing has only increased with the COVID-19 epidemic. Clearly, the Internet has been the only constant in a sea of ​​uncertainty, especially because it provides many great sources for connectivity and entertainment. This creates an important opportunity for businesses that have been negatively affected by the epidemic. With the sudden increase in the use of the Internet and social media, now is the best time to create customized digital marketing strategies that establish and develop your business reach.
Why is it important to maintain this new model of marketing in the post-epidemic life?
This is also supported by the fact that during epidemics there has been a 45% increase in the number of customer-initiated interactions using self-service formats; Actions that can be more easily and successfully incorporated into digital marketing as opposed to physical marketing. More specifically, the current unpredictable climate means that customers' opinions - and demands - are more variable than ever. Social media, since it is so accessible to customers, is an essential tool for getting feedback from consumers and keeping up to date with the views of your target audience and how they relate to your service or product. In addition to social media provides, you with a platform to actively engage with customers, having a social media presence will also lead to more user-generated content, thereby expanding your business. Therefore, social media is a major aspect of digital marketing. Some sites have changed their web design to give their visitors a better experience because a good first impression is important to retain customers and visitors and prevent them from leaving your site. All efforts in digital marketing can be wasted when people visit poorly designed sites. Web redesigning with the help of a web design firm or experienced web designer is one of the best ways to improve the aesthetic appeal and user experience of a site. Some more reasons are:
1. A changing scenario for business relationships
In addition to the reasons mentioned above, social media marketing is important because it provides a new means of communicating with other businesses and promoting relationships with them. Similar accounts are often part of the same social media community, with accounts or advertisements appearing on the same platform or medium, and later, companies get together for mutual benefit rather than working against each other as rivals Work is encouraged. It provides an additional channel of productive profit rather than a disastrous means of engaging with similar companies. Businesses that return to a purely physical rather than online presence after the epidemic will lose this potential opportunity.
2. Stay connected with your customers
This is one of the most important reasons for having a solid digital marketing strategy (especially now). Staying connected with your customers helps you to maintain and nurture an already existing relationship with them. Establish yourself in the digital space to remain relevant regardless of the current situation.
Constantly answer customer questions related to your business.
Address customer concerns about how your business is responding to COVID-19.
Update your customers about health and safety policies being implemented to offset store hours and prevalence.
These simple strategies will help you establish a digital footprint that strengthens your relationship with your customers. Practice them constantly, be a part of the conversation, and help your customers wherever you can. This will keep your brand relevant and useful.
3. A paradigm shift in business solutions
In the aftermath of the epidemic, businesses will be able to capitalize on digital marketing campaigns that focus on building customer loyalty rather than short-term profits to strengthen relationships with consumers and generate long-term profits. This would include maintaining that digital marketing platform at a high level of activity prior to the epidemic because it is the platform with which customers must have developed long-term relationships. Through market research taking place in the midst of the epidemic, HubSpot has found that consumers cite "customer service" as the most important factor influencing a company's opinion.
At BitQuest, being one of the Best performing digital marketing agency in Malaysia, we can help your firm develop a digital marketing strategy that adapts to changing times and circumstances. Whether the impact of the epidemic has been to provide a formidable challenge or to create an opportunity, we can help you develop a strategy that suits your needs and helps your firm grow. To contact us you can mail us or visit our website.