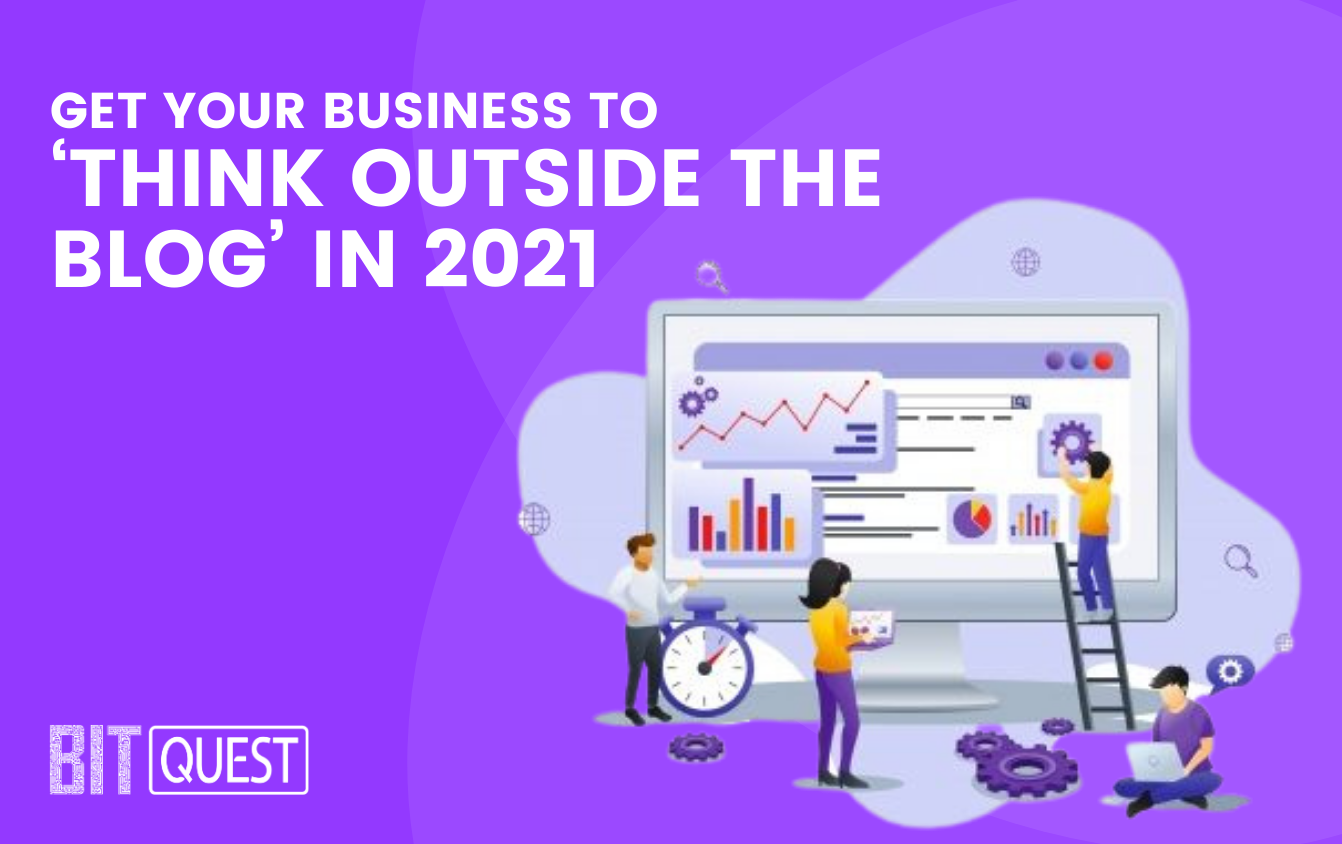 Many marketing agencies have declared "the company blog page is dead". And the bold claim that any innovative company worth their salt was moving to a more media organisation approach, modeling themselves on news providers like the BBC. Time has proven that a lot of innovative companies experimented with the layout of their websites and pushed their content to a more central position. We sure did. But if you take a look across the B2B technology space, a lot of organisations have not. the point of this article—is that the traditional mindset of where the 'blog page' is located can commonly filter into what kind of content a company produces. We would like to say that the blog is not dead, but if your business really wants to make a splash with its content marketing strategy, you should be thinking outside the blog. Things you can do instead of blogging are:
1. Record video
More and more people are using video to connect with viewers and build online communities. If you have not yet tried it for your business, you have a powerful opportunity to reach and create value for customers and prospects. Videos give a face and voice to your business. At a time when most organizations have few moments to engage with their customers, vlogging can fill the gap and bridge the gap. Just 5 minutes of video every week humanizes your business and keeps people engaged. Also, video content greatly increases the reach of businesses. It is a key component in any successful online presence, supporting search engine optimization, social media, and other digital marketing efforts. It can also speed up your content production, as videos can be easily converted to various media such as blog posts and podcasts.
2. Create experience at a distance
Paranormal businesses stand for the experiences they create. This has not changed as the world has moved online. In fact, organizations of all types, sizes and industries have successfully transitioned to offering completely virtual or semi-virtual services without losing anything. Whether or not you are able to serve your customers online, consider the virtual experiences you can create. Beyond just having a website or transacting online, think about how you can add a personal touch and apply your organization's values ​​in the process. Is there a small gift you use for in-person that you can provide a replacement or replacement for online? If you used to eat free coffee in the lobby, for example, you could include a $ 5 Starbucks gift card with purchases over a certain amount.
3. Chatbot
The way we use websites to consumers has changed dramatically. We no longer want to find the website we want. It takes too much time and is frustrating. So, we have turned to chat and chatbots. While they are searching, more and more consumers are turning to chat instantly while visiting the website to find those answers. While live chat is actually realistic only during business hours, a chatbot is available 24/7/365. Developing a strong chatbot, which gathers any information or input that helps the user find out what they are looking for can be extremely effective when providing information, education, or direction.
4. Your graphic design inspires your creative marketing
On a well-designed website, the user experience will be smooth and easy from beginning to end. But what if that user's experience with your website actually starts before you click on your homepage? For mobile and online marketing to really inspire users to click through to your site, you need to prioritize the graphic design of your ads. If you want to get creative with your digital marketing projects, you are not afraid to use striking visuals that will attract user attention. Your audience should be able to tell at a glance digital advertising what your company is. Only creative graphics can tell a story that way.
5. Pull back the curtain with social media
For many years, "authenticity" has been growing as a marketing buzz, and businesses are paying attention. Everyone is trying to find new ways to show their customers who they really are. Social media is one of the best ways to show the authenticity of your brand as it removes the marketing middleman. Posting photos and sharing stories make customers feel like they are getting a real sense of going behind the scenes. It also gives you the opportunity to respond to customers' comments in real-time, and it gives your business the opportunity to speak directly with customers and leads. With an authentic approach, you will engage with your customers without ever feeling like they are being marketed. People don't buy from businesses; they buy from people. Getting the curtain back on your business and showing your human side can help you develop trust.
6. Webinars
In a time of remote work, webinars are resurfacing. This is a great way to sell your expertise, it is interactive, and it generates leads. With the range of apps that are readily available today and the fact that so many of us are working from home, quick, and valuable webinars are a great way to drive interest, engagement, and most importantly. Webinars, video content, are not as difficult to set up as you expect. In fact, webinars are probably easier than making a piece for a video. You can create them using video conferencing tools combined with a presentation app such as Microsoft PowerPoint. Take an idea for a blog, turn it into a presentation, and boom: now you've got a webinar to drive traffic.
Podcast
Podcasts are the new 'Innovative Content Medium'. Your mother probably made a start. It should not be said that you should not. Does your organization have charismatic thinkers and speakers? Get them on a call with each other (again, using their trusty video conferencing software), record hits and you have the start of a podcast. If you're thinking about starting a podcast, choose a host to start each episode - consistency will help build a following. Outline your topic in advance: Make sure that anyone on the podcast knows what they are going to talk about and the structure of the chat. This will save a lot of time when trying to edit an episode into a flowing conversation. Speaking of editing, you can use free software such as Audacity to edit your recordings and another free platform as an anchor to publish it, viz.
Audio version of the blog
Just because you are thinking about reducing the amount of blog content, it does not mean that you cannot do anything else with that content. Adding an audio version of your blog is not only an additional way for people to consume it, but it is more accessible, enabling different people to consume your content more easily. If you are starting a podcast it means that you have the possibility to invest in a decent microphone and editing software. Why not record your latest blog and put it to use as an audio piece?