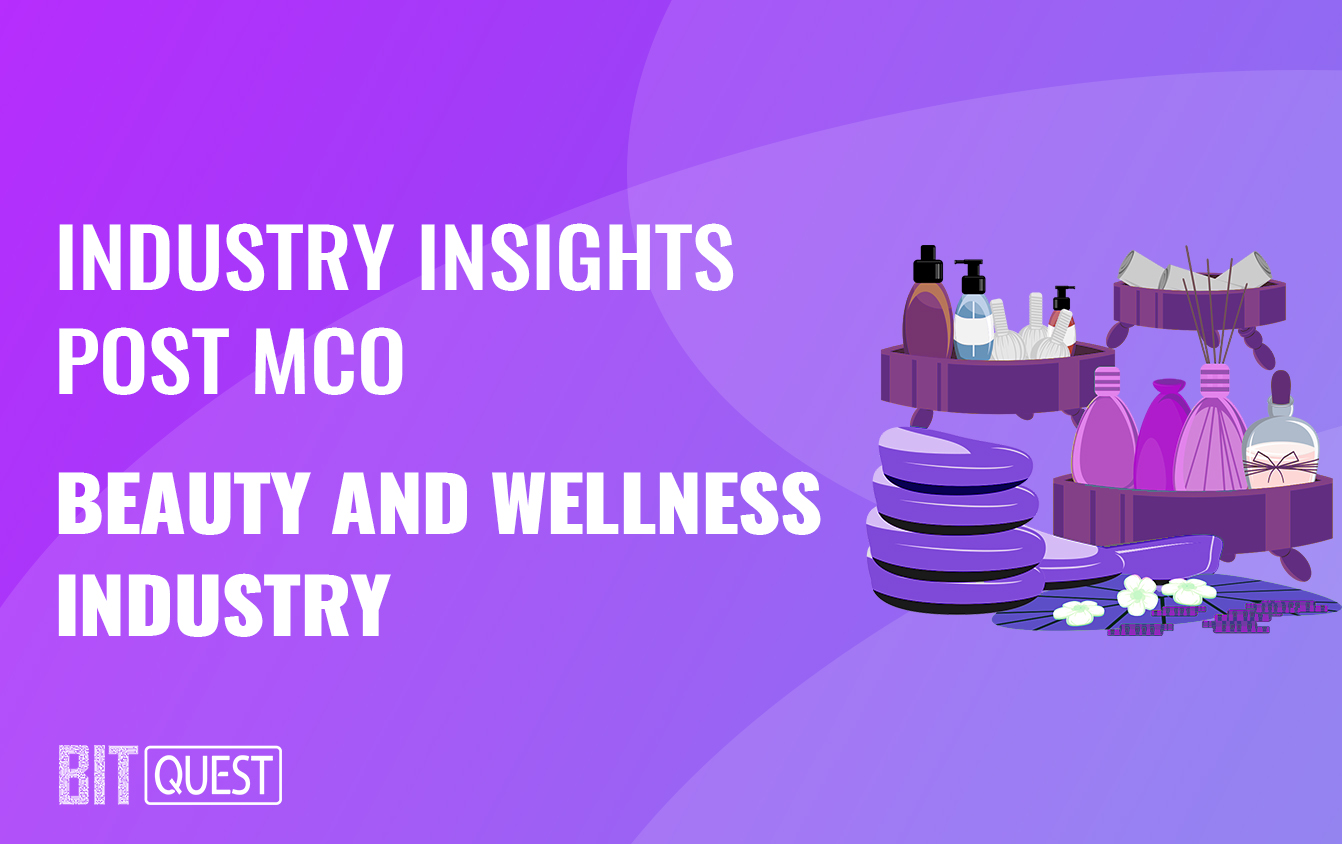 Like every other industry, the beauty and wellness industry were hit hard by the COVID-19 pandemic as well. As businesses suspended in-person services and shuttered physical storefronts in the wake of the MCO, the impact could well be seen. However, during MCO, as the consumer behaviour changed, industry players raced to step up their digital initiatives and evolve their business strategies in an effort to remain connected to their consumers.
BitQuest has been keeping track of various industry trends during these times. And in this article, we bring for you key points that will prove vital in the reshaping of the Beauty and Wellness Industry post this MCO.
Here are some of the trends and insights from the Beauty and Wellness Industry in Malaysia:
Moving Online
With the suspension of in-person services and physical store operations, many businesses began to digitalise their business strategies to accommodate their consumers. In numbers, a total of 11% (from 21% to 32%) in the beauty and wellness industry made a digital transformation and converted their business online during the MCO.
Just like the other industries, for the beauty and wellness industry too, experts are predicting further increase in online flagships. This pandemic has further proved that having an online presence in today's time is extremely important.
Impact on Social Media
During the first month of MCO, when the consumers were required to stay at home and practice social distancing, there was a spike in the number of interactions across the social media platforms of the industry—especially from 25 Mar 2020 to 31 Mar 2020.
When we compare the types of interaction, the total video views during this period had a significant leap on the chart. The videos that perform well are mostly on topics that are highly relevant to the audience during the MCO period—delivery services, cooking videos, and information about COVID-19.
Using Social Media
Aside from digitalising their businesses, beauty and wellness brands also innovated their social media content to match current trends and topics. The top 10 content with the highest Interactions rates were videos on product and treatment promotions, contests, cooking demos, branding, delivery services, and e-commerce collaborations. The duration of their video content was longer on Facebook as compared to Instagram.
It is being predicted that the trend of using Facebook to engage with the audience and using Instagram to focus on promoting products and brand awareness shall continue. Contests, tutorials and other engaging content types shall come more into play. Humanizing your brand will be essential.
Who topped the social media charts during MCO?
On Facebook, Innisfree toped the interactions chart with an online contest that featured a makeup artist doing creative makeup looks and encouraged the audience to submit their makeup looks to win newly launched products. Melilea Malaysia Official came in second with a Facebook Live cooking demo that demonstrated step-by-step recipes to try at home.
On Instagram, Breena Beauty's makeup sponge demonstration using the TikTok app took the lead as the content with the highest interactions rate for the Beauty And Wellness industry while Sephora Malaysia became first runner-up with a Korean beauty brand launch video featuring the brand muse, Jennie Kim, from a K-Pop Group called BLACKPINK. (any fans here?)
Change in Sales Channel
With physical stores closed and businesses moving online, there was bound to be a shift in the various sales channels. Prior to the MCO, 75% of the traffic went to WhatsApp, 14% to Lazada, and 10% to Shopee from Facebook content. However, now there's been a slight shift of the content dynamics after the MCO was implemented—WhatsApp is down to 64% while Lazada and Shopee increased to 21% and 13% respectively.
This increase in e-commerce collaboration on Lazada and Shopee shows businesses diversifying their business strategies to cover different platforms unlike in the past. This is a trend we could see further, especially with Lazada and Shopee's COVID-19 relief initiatives to support local SME's.
On the other hand, WhatsApp remained the preferred e-commerce platform on Instagram, with most of the businesses preferring to drive enquiries straight to WhatsApp instead of other platforms. Interestingly, Instagram content directing users to Zalora also increased by 3% during the same period.
In conclusion, when in-store services and treatments brought to a halt, brands were coming up with more ways to reach their consumers online. With trends showing a spike in e-commerce, experts cite, a more robust e-commerce strategy, paired with relevant content will ensure the connection between brands and consumers to remain strong.
Source: Figures and facts adapted from Adqlo's Life-After-COVID19-Malaysia-Retail-Industry-Digital-Report.