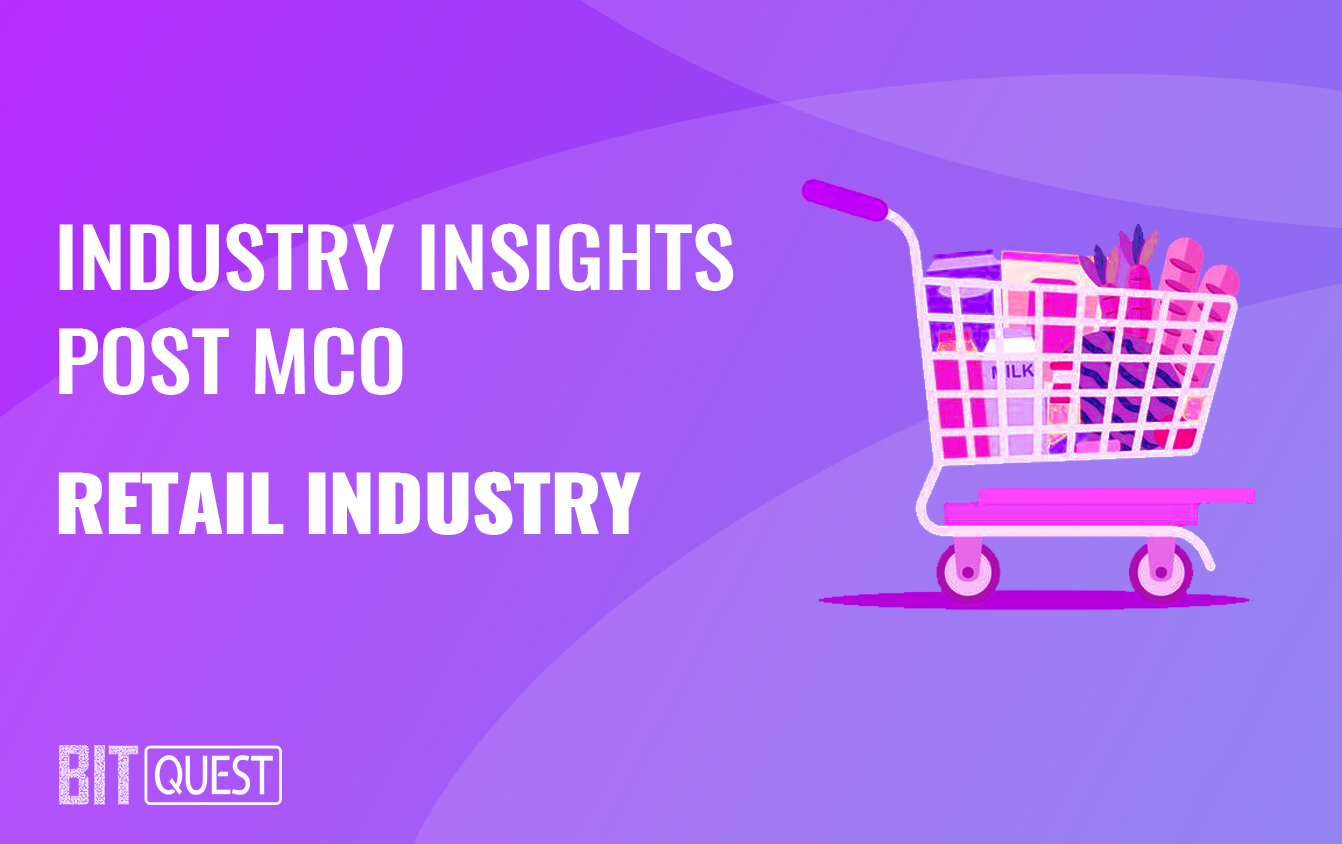 Groceries and pharmacy classify as essential commodities, which means most supermarkets and department stores remained operational during the MCO. However, few of the problems faced by these retail stores were - long queues, shortage of stocks, and travel restrictions that posed a challenge as consumers raced to buy daily necessities and avoid slim pickings. However, with time, footfalls to department stores and supermarkets decreased. The impact of COVID-19 finally reared its head and businesses had to work out strategies to connect with the audience and maintain sales.
BitQuest has been keeping track of various industry trends during these times. And in this article, we bring for you key points that will prove vital in the reshaping of the Retail Industry post this MCO.
Here are some of the trends and insights from the Retail Industry in Malaysia:
Huge Online Surge
The result after the decrease in footfalls at the retail stores was a huge surge of businesses digitising their operations. We saw a whooping 36% bump in online e-commerce for the retail industry. The tally went from 38% before the MCO to 52% during the MCO. During the MCO, online shopping was seen as a way to minimise risk of infections by staying home. Hence, key players in this industry have experienced a big jump in their online shopping platform's traffic during the first week of MCO, notably Jaya Grocer experienced an outstanding 600% increase and Tesco observed a 450% increase when compared to stats prior to the implementation of MCO.
The digitization of physical stores will be a recurrent trend, which businesses willing to maintain an online presence as well.
Social Media Interactions
During 1 - 7 Apr 2020, there was an increase in social media interactions across Facebook and Instagram for the retail industry. In terms of content, there has been a spike in video views during the third week of the MCO. The top 3 most interactive posts for the department store and supermarket industry on Facebook and Instagram during 1 - 7 Apr 2020 are coincidentally all in video format, which explains the spike in video views.
Malaysians were interacting on video posts such as Watsons' health tips sharing and IKEA's stay at home PSA. The post with the second highest interaction is from Tesco, which is a contest that gives participants a chance to win a staycation.
Content related to MCO were most viewed, again consolidating our theory of humanizing the brand. Situation related content receives the highest interactions from the audience base.
Top Keywords and Content
Among the top 10 posts with the highest interactions on Facebook, supermarket, convenience shops, and pharmacies that were operating during the MCO took the lead by holding 7 spots. In addition to promoting their products and services, brands are also sparking conversations online with informative posts on COVID-19 and relatable content encouraging people to stay at home.
When we talk about keywords, the top performing keywords on Facebook were, 'online' and 'delivery' in general while pharmacy-related keywords such as 'guardian', 'watsons', and 'health' were also frequently mentioned. For the top performing keywords on Instagram, 'available', 'order', 'online', and 'shop' took the lead.
On both platforms, the semblance shows the importance of digitization of businesses during the MCO.
Popular Sales Channels
With digitalization a change in online sales channels was inevitable. When it comes to e-commerce platform distribution for the department stores and supermarkets, there is a significant increase in call-to-action to WhatsApp on both Facebook and Instagram.
On Facebook, the call-to-actions to WhatsApp increased by 28% (45% to 58%) while Instagram saw an increase of an amzing 156% (23% to 59%) for call-to-actions to WhatsApp. The spike is in alignment with the initiative from more businesses such as Tesco and CARiNG Pharmacy offering home delivery services through orders placed via WhatsApp.
As supermarkets and department stores are the main players in supplying daily necessities to the consumers, their roles online and offline will continue to remain essential post the MCO as well. Therefore, we shall continue to see an increase in the e-commerce presence and social media strategy of these businesses. The move will not only be to push sales but also produce content that continues to make lives a little easier for the consumers as they face many unprecedented challenges ahead.
Source: Figures and facts adapted from Adqlo's Life-After-COVID19-Malaysia-Retail-Industry-Digital-Report.