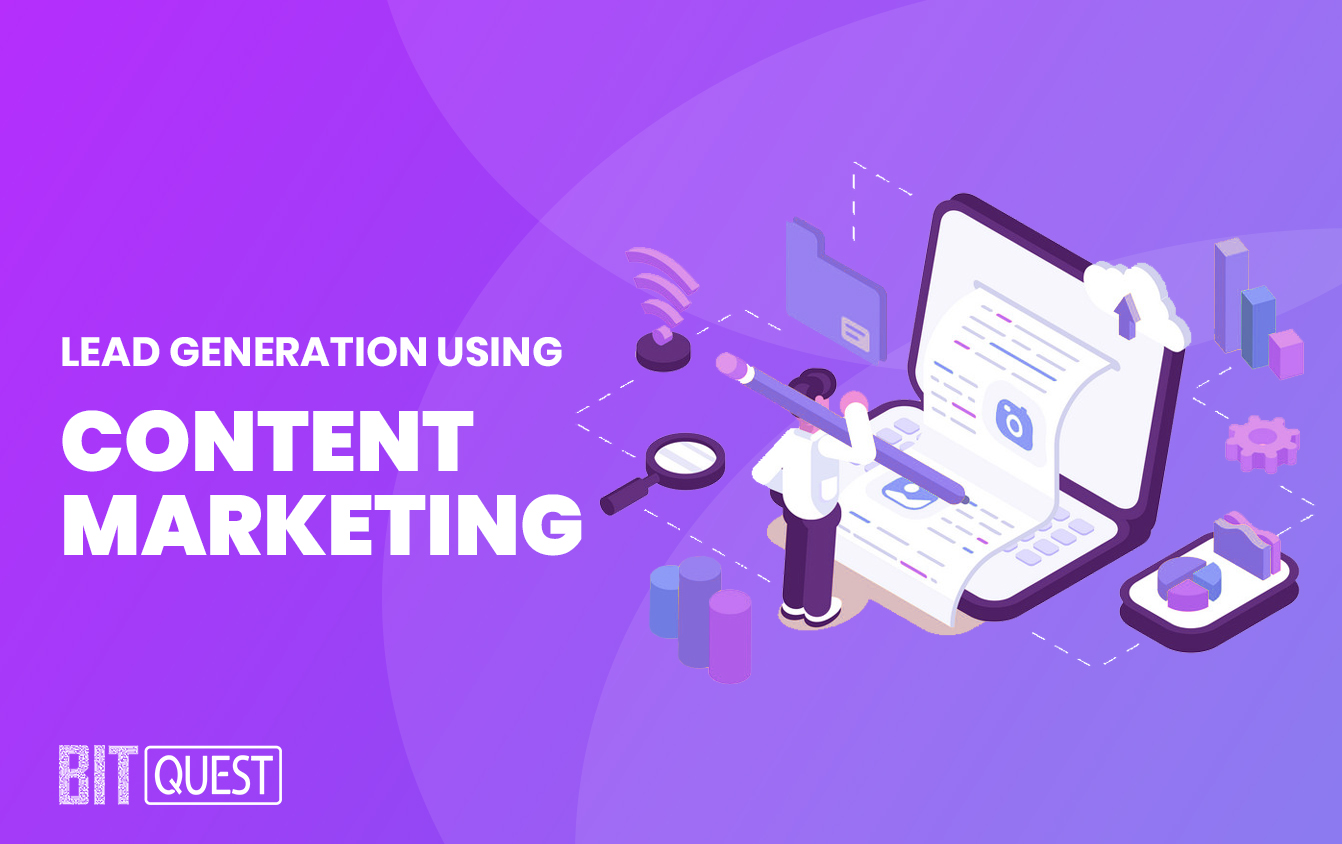 In simple layman terms, lead-generating using content marketing refers to the strategic marketing effort that typically focuses on creating and distributing interesting, engaging, and relevant content across a versatility of domains to attract and retain a targeted or potential customer base! The lead magnets attached to this marketing activity are quite a high stake in nature as content has the prowess or persuasive power to make or break a deal for a business organization. The better one's content marketing strategy, the more potential leads it will capture. Lead generation using content marketing helps a business organization to spread their horizons – placing the needs of the targeted or potential audience group above the promotional agenda!
How to Generate Leads through Content Marketing?
Through this blog, we at BitQuest, the best performing digital marketing agency Malaysia, aims to shed some light on different types of content marketing lead generation strategies that are sure to drive more quality leads and conversions and create a steady path for continuous flow of revenue into a business organization. So read on-
Personalized Content Targeting
Personalization can be considered as a powerful marketing tactic that can be used by a business organization to prospective customers or consumers on board! A tint of personalized touch (when added to the content) has the potential to generate enough leads that will keep a sales team busy for months! The main reason "Personalized Content Targeting" works are because personalization tends to plays with the minds of individuals. It soothes them, makes them feel wanted, ultimately compels them to take action!
In addition, artificial intelligence and machine learning are two latest technologies, which when applied to content can help a business organization to connect and engage with the target audience in a much more enhanced manner basis customization and personalization.
Eye-Catching Content
Content marketing was once heavily identified with word vomit writing. However, over the past few decades, this trend has massively changed for good. A web tourer in today's digital age is all the more interested in a piece of content that is crisp, more story-formic, and while engaging with facts and knowledge!
Say, for example, the value addition of infographics in content is far more in the visual snacking race than its counterparts. Their beauty is not just restricted to their creative ornamentation, but the crisp and on-point information they contain is what makes them stand out!
Another important tool that rests amid the visual content marketing realm is illustrated summary. The basic idea behind using illustrated summaries is to absorb impressions or ideas from a lengthy document, and turn the main points into a visual summary!
Content Promotion along with Content Creation
Undoubtedly, creating an excellent piece of content is very important but promoting it across various content channels is paramount. For the simple reason, that content does not discover all by itself. Great content needs to be put out there in the right content channels for the targeted and potential customers to read, get enlightened, and share amid peer groups.
On the other hand, media crossover can also be considered as another area to explore amid the content marketing realm. To accelerate content discovery, collaborating with other well-known big multinational business organizations can help a lot. Such platforms, allow a business organization to place their content pieces in relevant places on tens of thousands of partner sites and increase their exposure and brand recall value. This is not only a great way to distribute, target, monitor, and market the content and connects and engage with target audiences across the globe, but get good backlinks as well.
Data-backed Content Pieces
At its very basic, most of the data-backed content pieces are in the form of surveys and polls. However, socially-informed and data-backed content pieces are not just supported facts and figures gathered directly from the horse's mouth but something that has got in-depth importance!
Data-backed content pieces help the budding business entrepreneurs to formulate the much-needed tactics to be inculcated into the content strategies and marketing efforts. While picking content topics that are not only trending but are also backed by facts and statistics, which make them worth the read as stated by BitQuest, the best performing digital marketing agency Malaysia.
Audience Segmentation is Very Essential
Using the same pieces of content to cater to every audience segment can be considered as the old school method. Understanding the fundamental needs, likes, and dislikes of the targeted and potential audience's needs stand as the differentiator here. The more one capitalizes on this, the more they succeed because "one shoe does not fit all"!
As a team of well-qualified consultants, Bit Quest, the best performing digital marketing agency Malaysia is always strategizing and implementing effective marketing solutions for better customer engagement for your business organization to take it to the next level! Know more about us at- www.bitquest.net