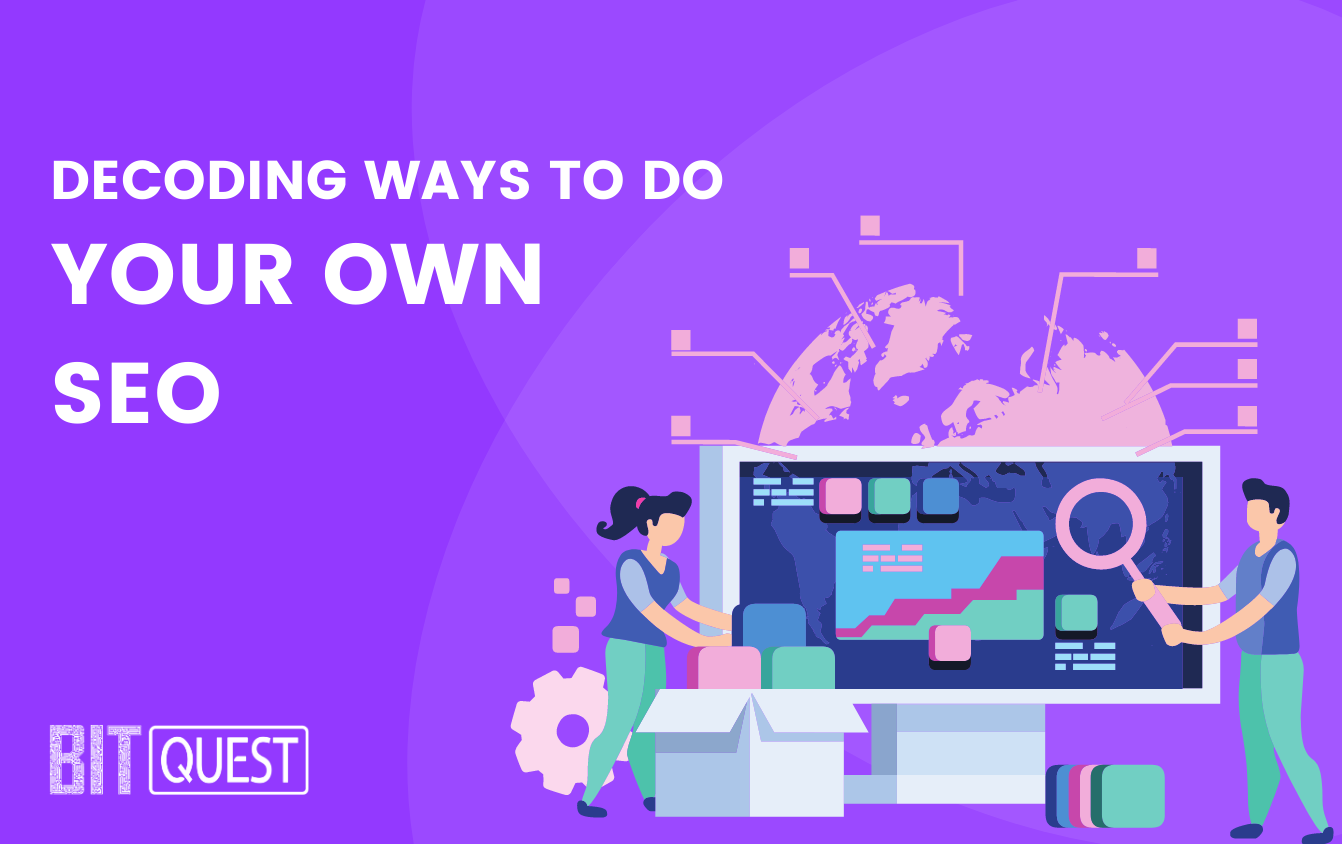 Don't have a huge marketing budget? Cannot hire an SEO agency either? Don't worry. It is possible to start with SEO yourself. Search engine optimization takes time and money. If you have less time, but have money, hiring an agency should be your go-to option. However, if you are short of money, use these do-it-yourself tips to boost your site's organic ranking.
BitQuest Digital Agency is here to decode 6 must-do things that can help you increase your website's organic search:
Improve Title Tags
View your highest-level category pages. My research suggests that e-commerce category pages should run at 32 per cent more organic search traffic than product pages. Sometimes a little common-sense adjustment for a title tag can make a big difference, especially if your e-commerce platform generates a default title based on your taxonomy and site name tag. This can result in a title tag like "Men - [Your Site]." Do your title tags make sense? Can you make them more specific or relevant? For example, adding "shoes" to the title tag above might make a common sense: "men's shoes - [your site"].
Master Keyword Research
A sound SEO program relies on keyword research:
• Learn the words and phrases of real explorers,
• Determine which keywords to target,
• Gauge demand for your products.
Marketers use the jargon of their industry and brand. Do not assume that you know what consumers want and how they search - do research. The best keyword tools provide a demand score for each topic. Google Keyword Planner is an independent, go-to keyword research tool, although you will need an active Google advertising campaign to access the most useful data. Most other quantitative keyword tools require paid subscriptions. But some still recommend it for free, without providing data for popularity.
Authority and backlinks should be from quality content
Surely, you might know that "Content is king! ". It has never deteriorated compared to today's marketing world. Having an inbound content marketing strategy is integral to attracting consumers, converting leads and building a loyal customer base. Consistent, quality content is amazing for SEO. By "quality content," we mean factual research, actionable blog posts, articles with lists, easy-to-secure infographics, thorough guides, e-books, and "evergreen" content. This type of content helps you do your own SEO in some ways. First of all, it helps you to create authority within your industry. You are free to showcase your knowledge and experience in the form of blogs, email newsletters, infographics and/or images. No need to post daily; Continuity in any rhythm is important. Secondly, quality content helps in creating backlinks for your website. Backlinks are one of the building blocks of a strong SEO campaign. Backlinks are a sign of a popular website, and they are important for SEO because some search engines (especially Google) give more credit to websites that have a lot of backlinks. Of course, monitor backlink is a super helpful tool for building and managing your site's backlink activity. Not only can you receive real-time alerts when you gain backlinks, but you can keep up to date with the backlink activity of your competitors. Such a tool is very important to build your credibility and do your own SEO.
Create, build and maintain social media presences
Social media allows you to connect with your customers & industry partners and with the people you work. Every small business should have a social media presence on some of its main channels such as Facebook, Twitter and Instagram. Social media equips your audience to share your content and allows you to gather social signals (likes and shares) that contribute to your SEO. Social media also gives you another platform on which to share your content, found by consumers and eventually produces more backlinks. Get your own SEO by creating and curating a strong social presence.
Understand Google Analytics
The importance of analytics is unique when doing SEO work. If you do not know how to read and process your website traffic and conversions, then you may not understand how to do your own SEO. Google Analytics is a great place to start, especially because around 80% of searchers worldwide use Google. This tool helps you know where your visitors came from, segment your customer base, create campaigns, set goals, and track, know which keywords bring in the most organic traffic, and more. Spend some time reviewing the Google Analytics dashboard. Becoming literate in this data will help you do your own SEO as well as appreciate and improve your numbers.
Create pages that are optimized for search
Once you get to know keywords you wish to target, you'll need to create pages that can rank for these keywords. These pages can come in a variety of forms. Depending on your target keyword, this may be your homepage, landing page, product page, or blog post. You must also ensure that these pages are optimized for search. This is known as on-page SEO. On-page SEO is the process of optimization to help a website's on-page elements (such as content, structure, code, etc.) rank higher in Google. Most people think that the number of times they mention their keywords on the page boils down many times. this is wrong. Keyword stuffing - unnaturally the practice of shuddering keywords where they are not intended for SEO purposes - died well over a decade ago. Nowadays, Google can understand synonyms and semantics.