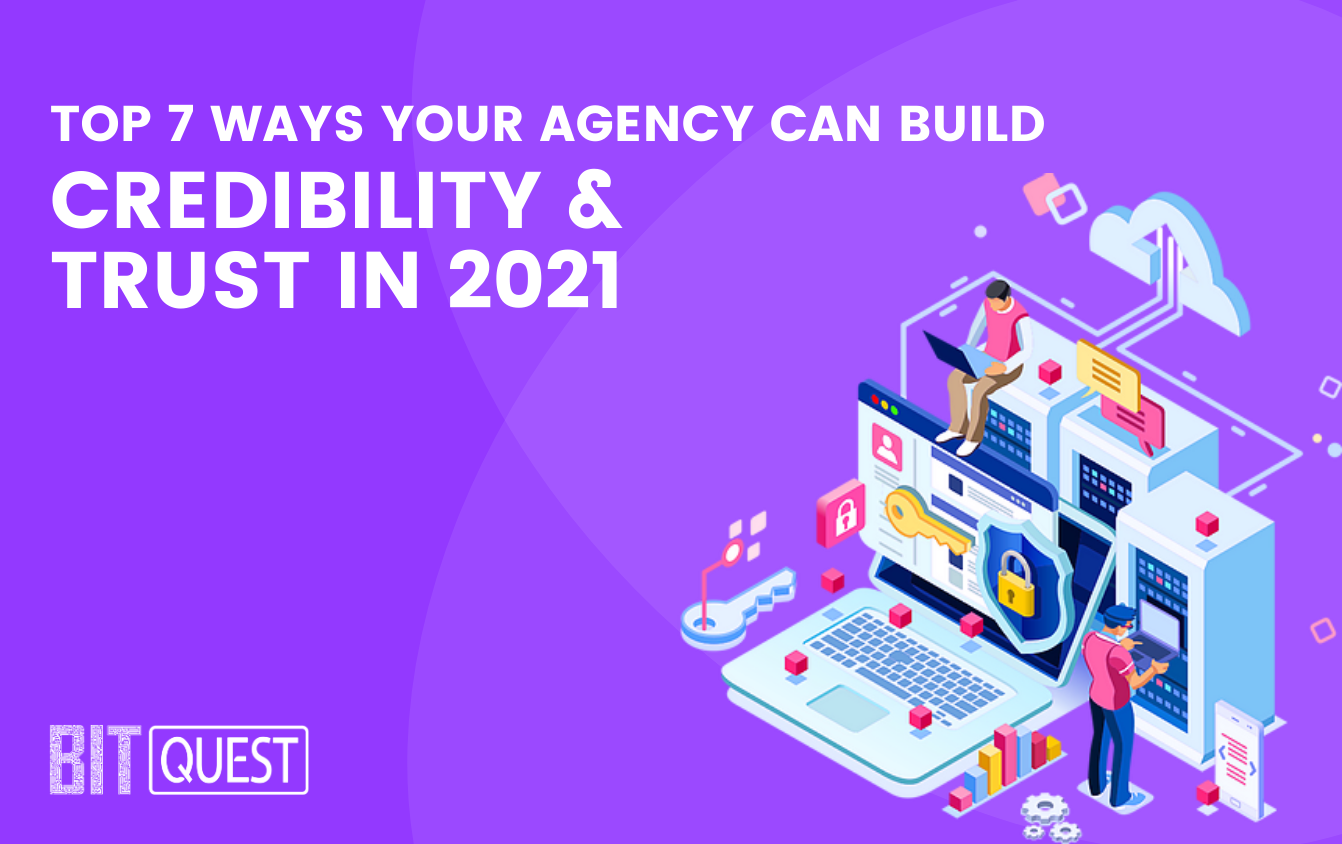 2020 was a year of challenges and insecurities. People hoped for a better 2021, however, there is little prospect of change this year. During these challenging times, businesses are investing lesser than before to endure the hardships. So, how can you convince your clients to trust and invest in your agency? Well, the answer is quite simple. You have to show that they can trust your business even during times of hardship. How can you do that? Let's take a look at the top seven ways you can do so!
1. Keep your website up to date
A website is one of the most vital parts of any company. Your website provides information about your business and the main insights about what services you are offering. It is important to make a good first impression through your company website. However, there are certain pages in a website that need more attention than others.
The About Us Page
A company is incomplete without its people. Hence, a customer needs to know the faces they are going to be working with.
The Customer Stories Page
During times of uncertainty, it is difficult for customers to trust any agency. Hence, a customer's stories are quite vital in gaining trust as well as attention from new customers.
The Pricing Page
Building the right pricing page for your potential clients is another most important factor to build credibility. It is important to make sure that your pricing page is created in a concise and well-defined manner so that it becomes easy for clients to understand your package.
2. Have an active social media presence
Research shows that the majority of people tend to social media before purchasing a product. Hence, it is extremely important to be active on social media in this digital era. Posting interesting content around your day-to-day activities helps people get familiarize with your business environment. However, there are certain things to keep in mind for your social media presence-
Make sure to choose a relevant social media
Post engaging and creative content to attract the target audience
Share content focusing on people's pain points
Use your presence on social media to share your company's values
Always be transparent and engaging with your followers
If you can nail the social media presence, half of your work is done!
3. Get certified in as many areas as you can
There is nothing like great knowledge! Hence, the more knowledge and expertise your team have, the better work you can provide for your clients. There are lots of certifications that your team including you can obtain. Some of these are-
Google Ads Certification
Google Analytics Certification
HubSpot Content Marketing certification
Facebook Blueprint
4. Showcase your work and customer testimonials
It is quite obvious that potential clients need proves of work to be able to trust your business. Studies have shown that people read an average of 10 reviews before committing to a product. Hence, customer testimonials are your secret weapon. Why? Because potential buyers are ready to believe clients who were once in the same position as them. As mentioned before, website testimonials are one of the most effective ways to showcase your work and your reviews. These testimonials can also be used as social media posts to get a wider range of audiences. However, it is important to note that you only use up-to-date and your best set of work with solid data to back up the results.
5. Invest in an agency directing listing
A trustworthy agency directory comes in handy for both customers and agencies. Agencies need to know where clients go to compare between companies. The agency directory saves a lot of time and effort and helps both parties to find each other.
6. Picking the right kind of marketing toolkit
Picking the right kind of toolkit helps you to cater to your clients as well as your agency. It is essential to pick the tools which allow you to do your job effectively but also provide some perks. Choosing the right toolkit is quite a trial-and-error method nonetheless once found, it gives your company a massive boost.
7. Share your expertise for free
Sharing your expertise is a way to promote your brand without actually promoting it. If you are someone who can be of help to others, why not help them? You can do this by joining Facebook groups, webinars, podcasts, etc to share your expertise with other like-minded people. This helps your company get a boost by displaying expertise.
Gaining trust and acquiring credibility can be done in various ways, however, at the end of the day, it all depends on your company and its expertise to showcase your work which sets you apart from other organizations within your niche!