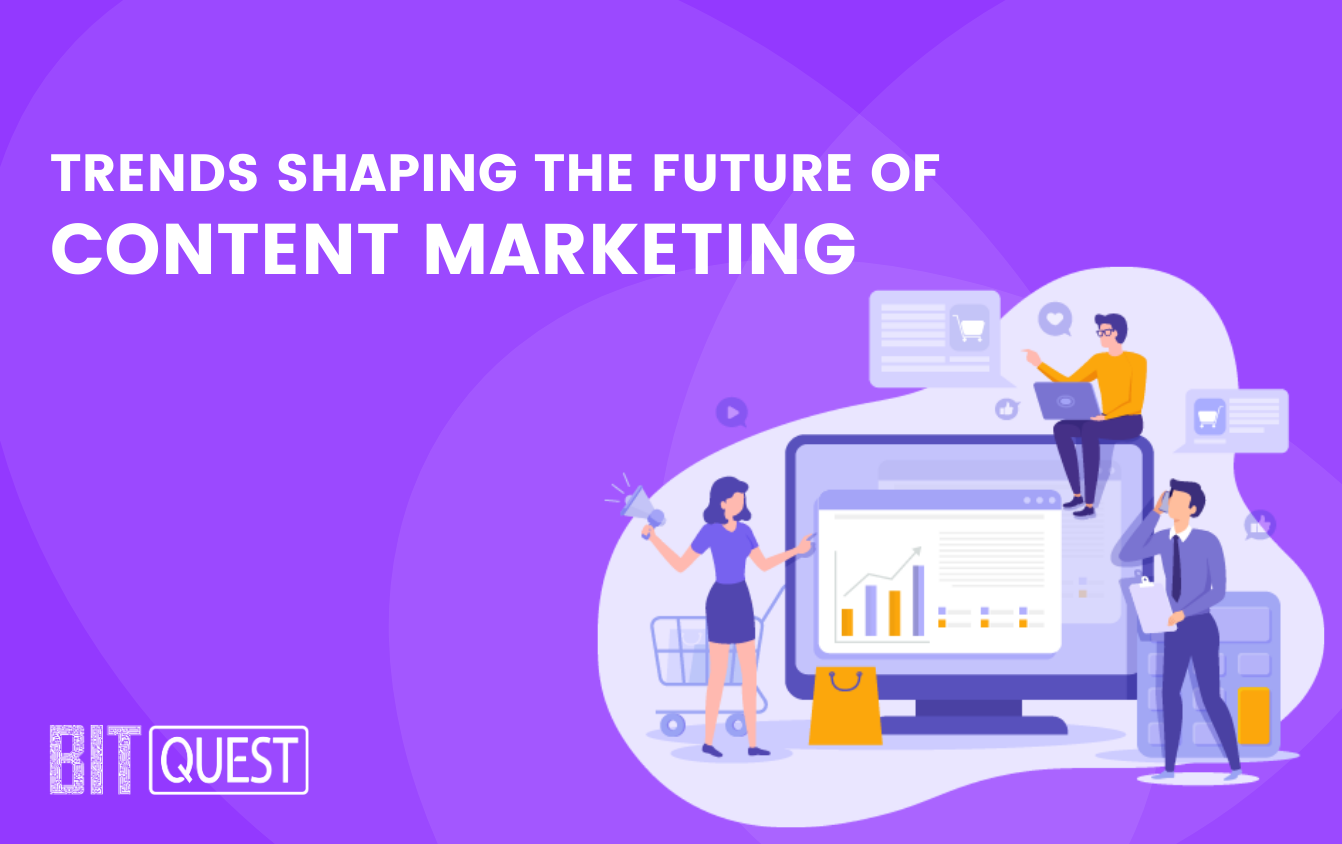 Content marketing is a strategic marketing approach, which focuses on creating and delivering valuable, relevant and consistent content to drive profitable customer action, to attract and retain a clearly defined audience. Content marketing develops all the time. And in this article, we will showcase current and future trends to help you, as well as other online businesses, marketers and content creators. Marketers and their businesses will stay ahead of the curve by adopting new technologies. Here are five content-marketing trends, experts from BitQuest agree, companies should consider strategizing together for the coming year.
1. Personalized content
In our industry, we have to liaise with all and our content has to focus on their business needs and schedule. We have a very small window to draw the attention of the respective audience of the niche. Therefore, we have to give them something to really force them to get their attention and keep it up. This means tailoring our content to their needs. A strong, small, pithier call to action. Or just looking at some strong proposals that can develop into a quick turnaround. For example- If we were to present an engineer, we would not have a webinar. With a contractor, it's really about getting straight to the point with something in tangible form, such as a discount or reminder alert to connect with their audience. In today's time, personalization is the key to success. The more you can connect with your audience, the better your user engagement will be.
2. Virtual reality
VR immerses users in a completely artificial digital environment. AR overlays virtual objects over real-world environments, while MR not only overlays but anchors virtual objects for the real world. Virtual reality (VR) is already a staple in real estate, entertainment and games. It only makes sense that marketing strategies would leverage this additional channel to include immersive content. Tech and media companies such as Sony, Facebook and Apple have made recent innovations and investments not only in VR but also in Augmented Reality (AR).
3. Artificial intelligence
Artificial intelligence and machine learning will play a more important role in the field of content marketing. With the content marketing trends constantly changing, these technologies will help marketers understand all this. AI will help marketers understand customers' preferences based on past behaviour and create hyper-personalized content to each individual customer. AI can also be used to make personalized product or content recommendations to users based on their unique interests. There is a content marketing trend that is still in a nascent stage and still to reach its peak. However, AI has the ability to help with all aspects of content marketing, from content planning to manufacturing. Thus, it will be one of the most important content marketing trends of the future.
4. Live streaming
Live videos surfaced a few years ago and have since caused a storm on social media. Users can go live on Facebook and Instagram and share their videos with their friends and the world. Videos can give a lot more information than text or photos. It is also a more interactive experience than other types of content. Live video gives users the opportunity to interact with the video creator while the video is being created. This gives users a much more interactive experience and makes them feel more involved. Viewers spend eight times more on live video than on-demand. No wonder, then, that live video is becoming the core of all online content.
5. Topic clusters
While this is not necessarily among the most recent content marketing trends, it is still a trend that is still going strong and will continue to adopt a growing number of marketers. The core concept of a content group is that you select a broad industry topic and create several pieces of content related to its subtopics. The main subject should be a relevant and trending industry subject. And all related pieces of material should be interlinked. The idea behind this is that all the information related to a topic should be made available to the customers at one place. This also makes them easier to find relevant content on your website. And it encourages people to read your content more and improves customer engagement. And if there is not enough incentive for you to take advantage of this content marketing trend, it also helps you rank better on the search engines. If you write high-quality, multiple pieces of content on a topic, Google is more likely to show your page to others who have covered only one aspect of the topic through one piece of content.
Which of the above content marketing trends speak the most to you?